A Brilliant New Approach To Caries Detection Is Now Available
Combining a unique technology with ease of use, the new DEXIS® CariVu™ is a valuable tool in the dentist's diagnostic armamentarium.
At Redmond Town Dental we are pleased to announce the introduction of CariVu (by Dexis), a compact, portable caries detection device that uses unique, patented transillumination technology. This exciting new product features the ability to detect a range of carious lesions (occlusal, interproximal, recurrent) and cracks with ease, and yields an easily interpreted image that is stored with the patient's other images.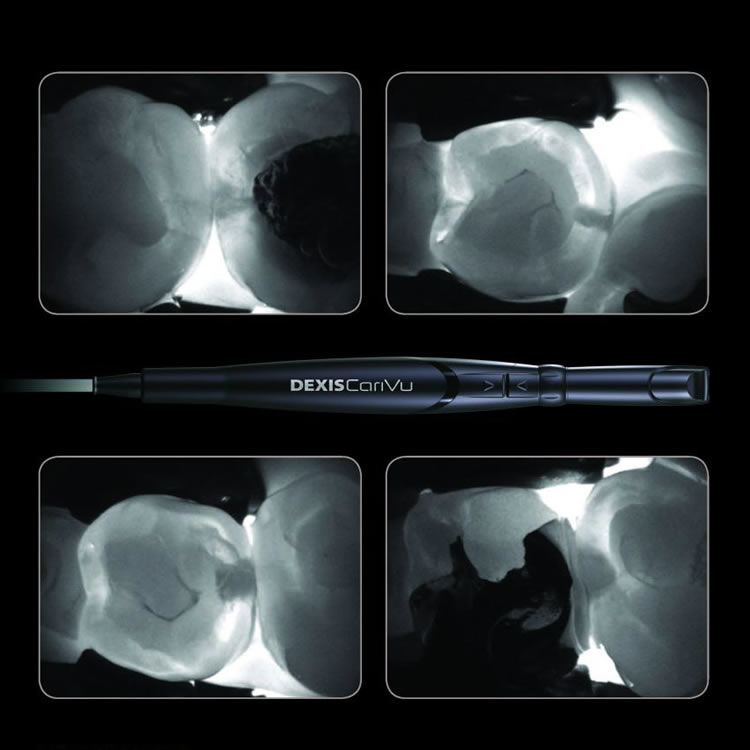 CariVu
DEXIS CariVu™ is a compact, portable caries detection device that uses patented transillumination technology to support the identification of occlusal, interproximal and recurrent carious lesions and cracks.
By hugging the tooth and bathing it in safe, near-infrared light, CariVu's transillumination technology makes the enamel appear transparent while porous lesions trap and absorb the light. This unique caries detector allows us to see through the tooth exposing its structure and the actual structure of any carious lesions with very high accuracy.
No-Radiation
Similar in appearance, DEXIS CariVu images read like familiar X-ray images — lesions will appear as dark areas.
Since transillumination can show lesions in the beginning stages, using CariVu during routine prophylaxis can aid the hygienist in identifying questionable areas early on and decide on a course of preventive care.
When used together, a radiograph, a transilluminated image and an intra-oral photo provide a comprehensive picture of the health of a patient's tooth.
Have you heard there's a safe new way to detect cavities? We have it!
We feel it's important to invest in technology when it truly benefits our patients, so we've added DEXIS CariVu in our practice. CariVu is an amazing new diagnostic tool that lets us see into your teeth like never before to find cavities and cracks. The device uses safe, near-infrared transillumination technology and zero ionizing radiation.
Easy and Painless – Flexible arms gently hug your tooth and bathe it in light. This gives the tooth a translucent appearance that allows us to see into it. A built-in camera captures video and pictures.
Early Detection – CariVu has been shown to reveal cavities earlier than X-ray and is 99% accurate in finding decay between teeth. It also reveals cracks.
Zero Radiation – This exam is good for all patients and is especially beneficial for kids, pregnant women, and others who want are X-ray adverse. Since it uses no ionizing radiation, it can be used as often as needed.
I'll Show You What I See – The pictures can be screen-shared with you at a large size. This visualization can help provide insight into your condition and provide you with a better understanding of the recommended treatment plan.
Ongoing Record – We keep an image history of your teeth so we can compare images from visit-to-visit and monitor changes over time.
Why Dexis CariVu?
DEXIS™ CariVu™ allows dentists and hygienists to see into your teeth like never before and capture pictures of them for diagnostic review and sharing with you on-screen.
The exam is painless and simple. Flexible arms gently hug the tooth and bathe it in near- infrared light as the built-in camera takes video and still images.
CariVu can be safely used on everyone as often as needed, and because it uses no X-rays, it's especially beneficial for kids, pregnant women and others who want to avoid radiation.
A potential cavity may be identified sooner which can call for taking preventive measures then monitoring over time to see whether there's improvement or decline.
CariVu is particularly good for finding a cavity between teeth, even in the early stages. Since its actual size and shape can be seen, treatment can be more targeted.
A cracked tooth can be viewed from multiple angles to reveal the shape and extent of the fracture. This can aid in determining the best course of action.
Images are stored in your patient record and can be compared from visit to visit. They can also be shared with specialists when necessary.