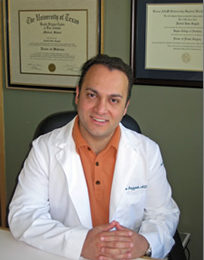 Premier Dentist in Redmond
Dr. Sayyah  is a member of the American Dental Association, Seattle King County Dental Society, Washington State Dental Association, the Dental Organization of Conscious Sedation.  Dr. Sayyah is constantly in pursuit of continuing education and staying on top of the advances in all aspects of dentistry and dental technology.
Biochemistry Major - University Of Washington
Doctorate In Medicine - University Of Texas
Doctorate Of Dental Surgery - Baylor College Of Dentistry
Redmond Town Dental is Established
Passion
Dentistry is a passion of mine. I really enjoy the aesthetic and technical details involved in enhancing smiles. I think that when I help someone with their overall health by improving their oral health, that is just the greatest reward. I love the fact that I can work with anyone of any age, young or old, men, women, children, it is all an honor to provide care for everyone. I still get inspired when learning about a new technique to enhance patient results. The education and learning is never ending in this field and I find it very fulfilling to pass along the knowledge that I obtain in my work.
Creating an Individual Plan for You
There is no standard way of doing dentistry. Teeth are unique to everyone, so there really isn't any standard way of doing any dental procedure. Treatment planning itself is a great part of the art in dentistry. In our office, we take the time to  customize treatment for you. We will look at your dental needs and consider any voluntary treatment options that may interest you as well. Together we will review options to customize a plan that will work best for you.
The Latest Dental Techniques and Advances
Continuing education is a very important part of my career in dentistry. There are numerous conferences I attend through out the year to keep up on the latest advances and technology. It is important to stay current so that I can offer cutting edge techniques for my patients. I enjoy being able to discover methods that produce more successful results, reduce downtime, reduce pain and swelling, and to give my patients the most optimal outcome.
Although my focus is primarily dentistry, I have expanded treatment options to include even more muscular and facial encompassing procedures . Using my medical training and knowledge of facial anatomy and aesthetics I also perform non-surgical procedures that can both enhance and restore your smile and facial symmetry. Using Botox or dermal fillers, I am able to offer even more customized treatment options in the office. Botox or dermal fillers can be used for aesthetics and also for clinical conditions such a bruxism. The results are incredibly positive and they continue to encourage more patients seeking treatment.
Approachability
I would like to think of myself as being a down-to-earth and approachable person. I have been told that my chair-side manner is unlike any dentist that they have encountered and that it is comforting to speak with someone that really listens to them. I would attribute this skill to years of medical training. I do genuinely want to listen to my patients because I sincerely want to help. I hope you too, will find me approachable and engaging during our consultation and procedures.
For those of you that may feel apprehensive or nervous when meeting me, I want you to take the time to read over this website and feel empowered with the knowledge it can give you. I believe that people are nervous because they don't know all of the answers, the unknown can be scary. This website has been put together to both educate and give some insight into what your office visits will be like. My goal is to put you at ease before you ever come in the door. If by chance you are still nervous after reading over the website, not to worry, — I do not intend on performing any procedure on your first visit to the office, I would just like to meet you!
Our office Patient Care Coordinator, Kari, is well-educated in the field and knows a lot about the procedures I do, as well as before and after care.  She is very kind, caring, and well-informed. Please feel free to contact us with any questions you may have.
Background
Dr. John Sayyah was raised in Reno, Nevada also known as the "The Biggest Little City in the World".
After graduating Dr. Sayyah obtained further training in oral surgery and anesthesiology. Because of his love of the great Northwest, Dr. Sayyah took the first opportunity to move back to the area to settle and begin his dental practice in Redmond, Washington.
Family
When not working, Dr. Sayyah enjoys spending time with his wife and three daughters.
The greater Redmond area is one of Dr. Sayyah's favorite places and on a nice weekend you can find him outdoors hiking, kayaking on Lake Washington or playing tennis with his daughters.
Experience
Dr. Sayyah enjoys all aspects of general dentistry and continues to expand on his knowledge with yearly continuing education for all aspects of dentistry.
Dr. Sayyah holds a dual doctorate in both medicine and dentistry, both achieved in Texas.
Memberships
Dr. John Sayyah is a comprehensive dentist serving Redmond, Sammamish, and greater eastside. He maintains a private practice emphasizing aesthetics, restorative and general dentistry. In an effort to stay knowledgeable about the latest technologies and developments in the ever-advancing field of dental technology, Dr. Sayyah is an active member of the following prestigious dental organizations:
American Dental Association, Seattle King County Dental Society, Washington Dental Association, American Association of Dental Anesthesilogy.